The Faculty and its Facilities: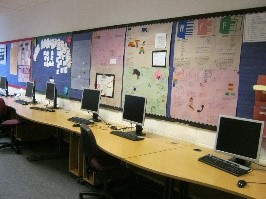 This is a modern faculty which has 5 fully equipped IT suites. All pupils have password controlled access to the school network and store their work on the network server. We use a wide range of software packages which include:
• Microsoft Office (Word, Excel, Access, PowerPoint, Publisher)
• Pivot
• Scratch
• Visual Basic
• Comic Life
• Internet Explorer and Google Chrome
• Serif DrawPlus and Webplus
• Email using Outlook Webmail
• OpenMind
Broad General Education S1-S3
Students in S1 and S2 come to the BEIT Faculty for 2 periods per week. S1 and S2 students will study:
Business
Computing Science
Information Technology
Throughout the course, the BEIT Faculty is committed to delivering the Technologies Experiences and Outcomes of a Curriculum for Excellence. Pupils will be given the opportunity to acquire transferable skills and knowledge that will not only allow them to participate in the life of the school but also for future study and the complex working world. The course is designed to ensure that our pupils have experience of:
Well known entrepreneurs  and the nature of risks that they take in business
How to operate in a Windows environment effectively to store information
The type of work and decisions to be made in the modern business environment by taking part in an enterprise activity
How technology is designed, controlled and brought to the market place
The common sources of finance and the management of finance
How to use common ICT applications such as Microsoft Word, Excel, Access and Powerpoint
Towards the end of their S2 broad general education in BEIT students will have an opportunity for an element of personalisation and choice where they can choose one or more of these subjects for S3.
Senior Phase Qualifications
As students enter S4 or are augmenting their course choices in S5/6, they will have the opportunity to further personalise their course choices in BEIT by selecting one or more of the following courses:
National 5 Accounting with progression to Higher and Advanced Higher
National 4 & 5 Administration with Information Technology with progression to Higher
National 4 & 5 Business Management with progression to Higher
National 4 & 5 Computing Science with progression to Higher and Advanced Higher
or
Digital Passport Level 6 (takes the place of the former Higher Information Systems – no programming)
Website Enterprise Level 5
Steps to Work Level 4
About BEIT
The Faculty of Business Education and Information Technology seeks to provide quality courses which are appropriate for those seeking careers in modern business. We seek to provide an inspiring and engaging environment where all pupils maximise their potential in a variety of Business and Computing subjects where we aim to:
• Develop skills of analysis, problem solving, logic, decision making, interpersonal skills, enterprise and, of course, ICT, in a variety of contexts
• Use a variety of learning and teaching approaches to develop relevant knowledge and understanding across our various subjects
• Enable students to acquire skills for life, future learning and for work
Supporting Pupils:
The faculty offers many opportunities throughout the working week to access support for course work, for homework, for extra help if they have any difficulty with current class work. Specific times available are posted throughout the school.
Wider Achievements – Enterprise:
We provide the opportunity for additional experiences to boost students' skills and confidence. We have an active Junior Enterprise group who fundraise for charity throughout the year and arrange various events which the pupils manage themselves.
In addition, students who follow a Steps to Work course have the opportunity to create and run their own mini-enterprise organisation. They go through the process of forming the business, making all the day-to-day decisions in running it, manufacture and sell their products and then reap the rewards by calculating and sharing in profits as well as making a donation to charity.
Wider Achievements – Build a Computer/Computer Network:
Our students can build computers and create their own small network – providing real opportunity to work with others as a team to put their Computing training into practice and solve problems on the way!
Young Enterprise
S6 pupils throughout the school are invited to take part in the Young Enterprise Scotland Program.
Participation in Young Enterprise gives pupils the opportunity to set up and run their own company through the academic year with support from a local business advisor and Young Enterprise Grampian Area Board Members.
The programme allows pupils to make the connection between the world of work and school, enabling them to develop skills in such areas as communication, team work, problem solving, resilience, and receive an invaluable entrepreneurial experience.