SCHOOL MEALS
The first class catering facilities at Meldrum Academy offer pupils a wide range of hot & cold meals and snacks.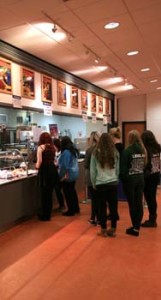 These can be purchased from the main cafeteria, vending machines or additional snack bar.  "Meals to go" can also be pre-ordered and collected at the start of lunchtime.
The cafeteria is a real hub of the school due to the high quality of food and excellent service provided for pupils. As well as buying lunch pupils can purchase breakfast items before school and snacks at break time.  The cafeteria regularly holds popular themed days and weeks, exposing pupils to a wide range of dishes and ingredients from around the world.
A 'Swipe Card' payment system is in operation with pupils able to top up their card at points around the school or parents able to top it up on line.
Further details regarding school meals, including details of how to top-up the swipe card online, can be found on the Aberdeenshire Council website follow these live:  Education and Learning>School Information>School Meals.