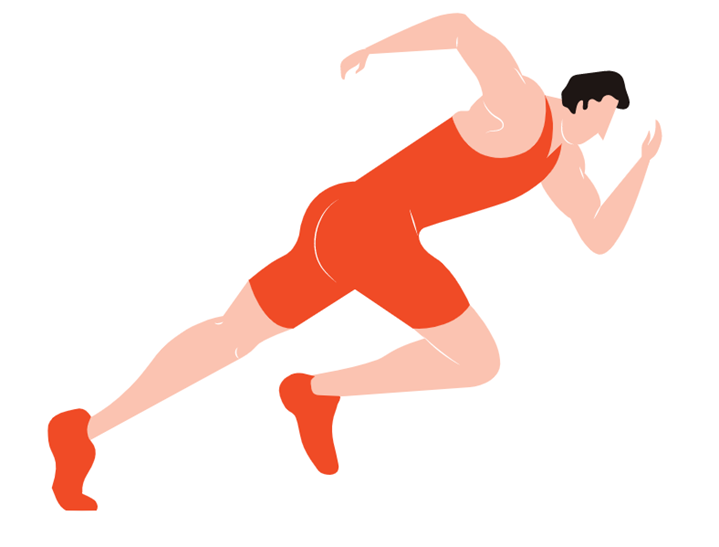 Introduction
Sports day this year will look to build upon the success of last year's Highland games day, incorporating many of the wonderful things we had on the day on a smaller scale.
This year the event will again be a whole school event which includes our visiting Primary 7 pupils to allow them to be fully involved in house-based activities right from the get-go.
General rules
Follow the schools' values and expectations
No leaving site unless you are on your allocated lunch time
Social media
We plan to take pictures and short videos throughout the day which will feature on our @meldrumhealth Instagram page. The events that will run throughout the day can be found within this guide.
Map of events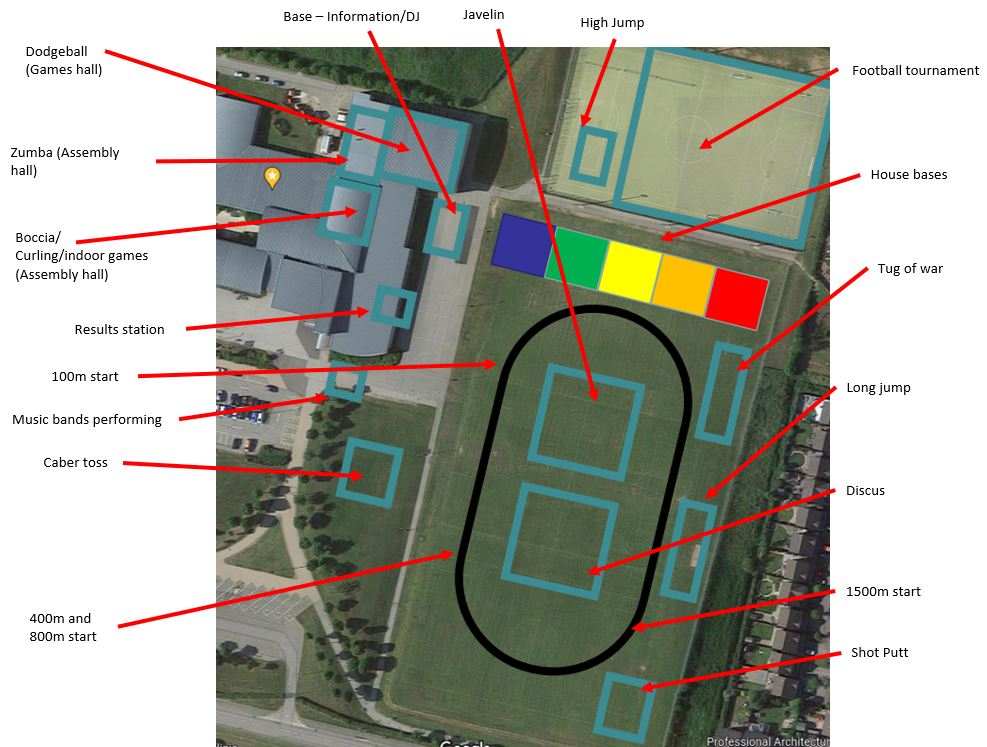 Activity rotations

Points scoring
Each event will be scored slightly differently. The page below shows how each event is scored.
Track and field (individual) events
Points are awarded as follows:
1st place 8 points
2nd place 6 points
3rd place 4 points
4th place 2 points
5th place 1 point
Sports/games events
1st place 16 points
2nd place 12 points
3rd place 8 points
4th place 4 points
5th place 2 points
Bonus points
Following guidelines and values (showing respect, responsibility, honesty, resilience and ambition)
Wearing house colours
Going above and beyond
Phase times
Phase 1: 09.30 to 10.20
Phase 2: 10.20 to 11.10
Phase 3: 11.10 to 12.00
Phase 4: 12.00 to 12.50 (S4/5/6 lunchtime)
Phase 5: 12.50 to 13.40 (S1/2/3 lunchtime)
Phase 6: 13.40 to 14.30
Phase 7: 14.30 to 15.00 (Relays)
Phase 8: 15.00 to 15.20 (Presentations and tidying)
Health and safety
For the day to run smoothly we need all competitors/pupils to be aware of the boundaries in place on the day to keep pupils safe. Red tape/fences/barriers will be placed around the areas and viewing areas will be identified if you wish to support your house teammates.
If you are unsure ask one of the teachers/staff who will help you. You can always go back to your base should you wish.
Event-specific information
Some events will require specific equipment on the day. These events are outlined below:
Dodgeball/indoor sports:

Suitable kit for indoor sports

Football:

Suitable footwear for the Astro
NOTE: Risk assessments are complete for all events running on the day and are kept in the PE department.
First Aid
A first aid station will be placed near the windows of Pastoral care if needed. It will be easily identified, and you must speak to a member of staff before heading to the first aid station.

FAQs
Where should I store my bag and valuables?
You can leave your bag in your house base. We advise you to bring minimal equipment/items and only bring your essentials on the day. We will have a valuables box available at each station for you to place your device. A member of staff will always look after this.
How do I sign up?
All sign ups should now be complete and activities have been written out and are waiting for competitors.
Will there be heats for my event?
It all depends on how many people sign up. In the event of too many people signing up we will initially go to the times we recorded in our PE lessons. If we do not have enough times, we will run heats if needed.
When and where can I get lunch?
You will have an allocated lunchtime. This will be displayed in your base area, and a tannoy will also go out in relation to this.
What should I do when not competing?
You have a choice as follows:
You can remain in your base area.
You can also support the primary 7 pupils as they will not know where to go.
You can support your teammates at their events in the viewing area.
You can watch the bands that are playing.
Please always adhere to the school values.
Am I allowed off campus?
You are only allowed off campus at your allocated lunchtime. You must make sure you are back to register at the start of the phase that follows your lunch period. THIS IS VERY IMPORTANT.
What about registering, where should I go?
You should register at your house which will have a list and a member of staff sorting registration. Period 1 of the day will be registered in tutor time, and if you are late, you can register at the main office, as you would normally. Period 6 is registered in your house base.
Should I wear house colours?
Yes – on the day you do not need to be in uniform. We would really like you to wear house colours. The more house colours you have, the more points you may earn for your team.

What if it rains?
If it rains on the day, you will go to your timetabled day as normal. You still do not need to be in uniform.
Will everyone be involved on the day?
Yes, it is hoped that this will be the case. If you are not involved in a sporting event, you could have a role cheering on your house group at the events.
Any help from pupils who live within walking distance of the school and would like to help at the end of the day would be appreciated.
How will I know when to go to my event?
There will be tannoy (Bing bong) announcements about the event, and you will need to know what you are doing. There will be info sheets up in each base for you to refer to.
You will also fill in a form before the day to take with you so you know where to go. We advise taking a picture of your form.
I am taking part in the sporting tournaments – what do I need to do?
You need to be at your allocated events at the correct time. When you arrive you will be met by the staff/volunteers who will tell you where to go, and what order you will play your games. Please be there on time and listen carefully to instructions.
What do we get if we win?
Your house will win the house trophy for Highland games. If you win your individual events you will get a medal.
Who will collect the trophy?
The sports captains will collect the trophy at the end of the day. The trophy will be awarded by a special guest on the day.
Does everyone have to take part in at least one event? What if they do not want to take part?
You can support each event if you wish to do so. We would like you to take part in at least one event on the day.
How many competitors are there for each event?
Each event will have guides as to how many competitors can take part. It is important that you prioritise track and athletics events over team events.
Event specific information
This section will be updated shortly